Aubre Cradle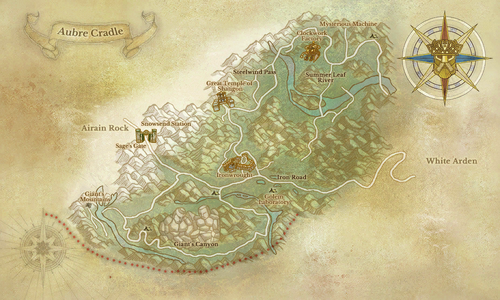 Aubre Cradle is the Dwarf starting zone, and they level from 1-15 here. It has a colorful landscape with snowfall. It is connected to Airain Rock.
Climate: Subarctic
Continent: Nuia
Faction: Andelph
Nation: Nuia Alliance
Vegetation:
Community Center: Vehicle Rental
Snowsend Station/Sage's Gate
[
edit
|
edit source
]
A train station that leads into Airain Rock's city of Andelph. There is also a large gate if you wish to travel by foot into Airain Rock.
A temple to honor the god Shatigon.
A town where the Dwarves live. It has several farming areas nearby, and large metalworks that paint the sky.
A small town where you will quest through.
Aubre Cradle Rice Flour
Aubre Cradle Ethanol
Aubre Cradle Deviled Eggs
Aubre Cradle Fertilizer
Aubre Cradle Aged Cheese
Aubre Cradle Aged Salve
Aubre Cradle Aged Honey