In the next few weeks, your wiki will be migrated to a Fandom.com domain. Learn more here.
Elk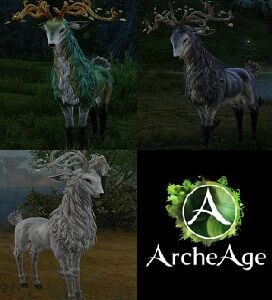 The Elk is the default mount of the Elf Race.
It can be obtained from the Raising Your Elk Calf quest chain in Gweonid Forest.

Other races may obtain these mounts for 10 

at the stables of Gweonid Lake in Gweonid Forest.

The Elk comes in three varieties - Green, White, and Violet.

| Icon | Speed | With Trade Pack | Lvl 50 Purchasable Shining Legguards |
| --- | --- | --- | --- |
| | 9.0 m/s | 1.8 m/s | 9,45 m/s |
| Icon | Level | Skill | Effect |
| --- | --- | --- | --- |
| | 5 | Run! | Increases mount's Move Speed +50% for 5sec. (Can't be used while carrying a trade pack) |
| | 10 | Mounted Arrowshot | Fires an arrow at an enemy, dealing Physical Damage equal to 80% of the rider's ranged attack. |
| | 15 | Mounted Fire Arrow | Fires a burning arrow to deal +500% of Ranged Attack as Physical Damage; also deals + 200% of Ranged Attack as damage over 5 seconds. |
| | 20 | Snipe | Shoots and arrow at great distance and deals damage equal to 700% of your Ranged Attack. |
| | 25 | Elegant Leap | Triggers a long, elegant leap 25m forward. (Can't be used while carrying a trade pack) |