In the next few weeks, your wiki will be migrated to a Fandom.com domain. Learn more here.
Mirage Isle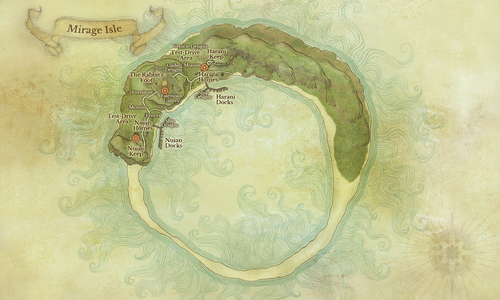 Mirage Island is the main trade hub in ArcheAge. It houses vendors for pretty much every major purchase you can make in the game.


Players can access Mirage Island from many portals placed across the world.
They are shown as a green swirling icon on the map.

Name
Cost
Speed
Speed w/ Pack
Abilities (mouse-over)
Dairy Cow
5 
7 m/s
1.4 m/s

Black Lilyut Horse

50

 

0

 

0

 
10.0 m/s
1.8 m/s
Alabaster Lilyut Horse

50

 

0

 

0

 
10.0 m/s
1.8 m/s
Dappled Lilyut Horse

50

 

0

 

0

 
10.0 m/s
1.8 m/s
Glider
Blueprint Price
Flight Time
Abilities (mouse-over)
Flight Speed
Gliding Ability
Turning Speed
Initial Speed
Experimental Glider1

5

 

0

 
2m
N/A
Low
Low
Low
Low
Improved Glider

25

 

0

 
2m
Moderate
Low
Low
Low
Enhanced Glider

50

 

0

 
2m
Moderate
Low
Moderate
Moderate
Ultimate Glider

1

 

0

 

0

 
2m
High
High
Moderate
Moderate
Red Dragon Glider
150
-
High
High
Moderate
Moderate
Moonshadow Glider
150
-
High
High
Moderate
Moderate
Thunderbolt Glider
150
-
High
High
Moderate
Moderate
Ezi's Glider
150
-
High
High
Moderate
Moderate
Name
Speed
HP
Plan Cost
Reagents
Abilities
Picture
Placement
Construction
Adventure Clipper
11.1m/s
7000
x50
x1, x1, x1
Features: Cannon(1), Oxygen Cylinders(2), Lanterns(2), Portable Harpoon Cannon(1)
Harpoon Clipper
11.1m/s
7000
x50
x1, x1, x1
Features: Harpoon Cannon(1), Oxygen Cylinders(2), Lanterns(2), Portable Harpoon Cannon(1)
Merchant Ship
10m/s
40000
x500

x100

x2, x3, x3
Features: Sextant(1), Cannons(2), Trade Pack Storage(20)
Fish-Find Longliner
8,3m/s
30000
x500
x1, x1, x1, x1
x2, x2, x2
Features: - Fishfinder (1), Trade Pack Storage (3), Small/Medium Fish Storage (5), Large Fish Hooks (2)
Lutesong Junk
10.8m/s
50000
x500

x100

x5, x5, x5
Features: Sextant(1), Cannons(8), Oxygen Cylinders(6), Trade Pack Storage(4), On Deck Radar and War Drum
Eznan Cutter
10.8m/s
50000
x500

x100

x5, x5, x5
Features: Sextant(1), Cannons(8), Oxygen Cylinders(6), Trade Pack Storage(4), Crows Nest Radar and Alarm Bell
| Name | Plan Cost | Construction Material | Dimensions | Decor Limit |
| --- | --- | --- | --- | --- |
| Rustic Spring Cottage | 15  | 1x , 2x | 16m x 16m | 45 Items |
| Stone Spring Cottage | 15  | 2x , 1x | 16m x 16m | 45 Items |
| Tudor Spring Cottage | 15  | 2x , 1x | 16m x 16m | 45 Items |
| Rustic Slate Cottage | 15  | 1x , 2x | 16m x 16m | 45 Items |
| Stone Slate Cottage | 15  | 2x , 1x | 16m x 16m | 45 Items |
| Tudor Slate Cottage | 15  | 2x , 1x | 16m x 16m | 45 Items |
| Rustic Rose Cottage | 15  | 1x , 2x | 16m x 16m | 45 Items |
| Stone Rose Cottage | 15  | 2x , 1x | 16m x 16m | 45 Items |
| Tudor Rose Cottage | 15  | 2x , 1x | 16m x 16m | 45 Items |
| Name | Plan Cost | Construction Material | Dimensions | Decor Limit |
| --- | --- | --- | --- | --- |
| Rustic Spring Manor | 200  | 10x , 10x | 24m x 24m | 100 Items |
| Stone Spring Manor | 200  | 15x , 5x | 24m x 24m | 100 Items |
| Tudor Spring Manor | 200  | 15x , 5x | 24m x 24m | 100 Items |
| Rustic Slate Manor | 200  | 10x , 10x | 24m x 24m | 100 Items |
| Stone Slate Manor | 200  | 15x , 5x | 24m x 24m | 100 Items |
| Tudor Slate Manor | 200  | 15x , 5x | 24m x 24m | 100 Items |
| Rustic Rose Manor | 200  | 10x , 10x | 24m x 24m | 100 Items |
| Stone Rose Manor | 200  | 15x , 5x | 24m x 24m | 100 Items |
| Tudor Rose Manor | 200  | 15x , 5x | 24m x 24m | 100 Items |
| Swept-Roof Manor | 200  | 15x , 5x | 24m x 24m | 100 Items |
| Name | Plan Cost | Construction Material | Dimensions | Decor Limit |
| --- | --- | --- | --- | --- |
| Rustic Spring Townhouse | 300  | 10x , 5x , 10x | 24m x 24m | 100 Items |
| Stone Spring Townhouse | 300  | 15x , 5x , 5x | 24m x 24m | 100 Items |
| Tudor Spring Townhouse | 300  | 15x , 5x , 5x | 24m x 24m | 100 Items |
| Rustic Slate Townhouse | 300  | 10x , 5x , 10x | 24m x 24m | 100 Items |
| Stone Slate Townhouse | 300  | 15x , 5x , 5x | 24m x 24m | 100 Items |
| Tudor Slate Townhouse | 300  | 15x , 5x , 5x | 24m x 24m | 100 Items |
| Rustic Rose Townhouse | 300  | 10x , 5x , 10x | 24m x 24m | 100 Items |
| Stone Rose Townhouse | 300  | 15x , 5x , 5x | 24m x 24m | 100 Items |
| Tudor Rose Townhouse | 300  | 15x , 5x , 5x | 24m x 24m | 100 Items |
| Name | Plan Cost | Construction Material | Dimensions | Decor Limit |
| --- | --- | --- | --- | --- |
| Rustic Spring Villa (Porch) | 400  | 20x , 10x , 20x | 28m x 28m | 150 Items |
| Stone Spring Villa (Porch) | 400  | 30x , 10x , 10x | 28m x 28m | 150 Items |
| Tudor Spring Villa (Porch) | 400  | 30x , 10x , 10x | 28m x 28m | 150 Items |
| Rustic Slate Villa (Porch) | 400  | 20x , 10x , 20x | 28m x 28m | 150 Items |
| Stone Slate Villa (Porch) | 400  | 30x , 10x , 10x | 28m x 28m | 150 Items |
| Tudor Slate Villa (Porch) | 400  | 30x , 10x , 10x | 28m x 28m | 150 Items |
| Rustic Rose Villa (Porch) | 400  | 20x , 10x , 20x | 28m x 28m | 150 Items |
| Stone Rose Villa (Porch) | 400  | 30x , 10x , 10x | 28m x 28m | 150 Items |
| Tudor Rose Villa (Porch) | 400  | 30x , 10x , 10x | 28m x 28m | 150 Items |
| Rustic Spring Villa (Veranda) | 400  | 20x , 10x , 20x | 28m x 28m | 150 Items |
| Stone Spring Villa (Veranda) | 400  | 30x , 10x , 10x | 28m x 28m | 150 Items |
| Tudor Spring Villa (Veranda) | 400  | 30x , 10x , 10x | 28m x 28m | 150 Items |
| Rustic Slate Villa (Veranda) | 400  | 20x , 10x , 20x | 28m x 28m | 150 Items |
| Stone Slate Villa (Veranda) | 400  | 30x , 10x , 10x | 28m x 28m | 150 Items |
| Tudor Slate Villa (Veranda) | 400  | 30x , 10x , 10x | 28m x 28m | 150 Items |
| Rustic Rose Villa (Veranda) | 400  | 20x , 10x , 20x | 28m x 28m | 150 Items |
| Stone Rose Villa (Veranda) | 400  | 30x , 10x , 10x | 28m x 28m | 150 Items |
| Tudor Rose Villa (Veranda) | 400  | 30x , 10x , 10x | 28m x 28m | 150 Items |
| Rustic Spring Villa (Sunroom) | 400  | 20x , 10x , 20x | 28m x 28m | 150 Items |
| Stone Spring Villa (Sunroom) | 400  | 30x , 10x , 10x | 28m x 28m | 150 Items |
| Tudor Spring Villa (Sunroom) | 400  | 30x , 10x , 10x | 28m x 28m | 150 Items |
| Rustic Slate Villa (Sunroom) | 400  | 20x , 10x , 20x | 28m x 28m | 150 Items |
| Stone Slate Villa (Sunroom) | 400  | 30x , 10x , 10x | 28m x 28m | 150 Items |
| Tudor Slate Villa (Sunroom) | 400  | 30x , 10x , 10x | 28m x 28m | 150 Items |
| Rustic Rose Villa (Sunroom) | 400  | 20x , 10x , 20x | 28m x 28m | 150 Items |
| Stone Rose Villa (Sunroom) | 400  | 30x , 10x , 10x | 28m x 28m | 150 Items |
| Tudor Rose Villa (Sunroom) | 400  | 30x , 10x , 10x | 28m x 28m | 150 Items |
| Name | Plan Cost | Construction Material | Dimensions | Decor Limit |
| --- | --- | --- | --- | --- |
| Stone Spring Chalet | 500  | 50x , 15x , 20x | 28m x 28m | 150 Items |
| Tudor Spring Chalet | 500  | 50x , 15x , 20x | 28m x 28m | 150 Items |
| Rustic Slate Chalet | 500  | 50x , 15x , 20x | 28m x 28m | 150 Items |
| Tudor Slate Chalet | 500  | 50x , 15x , 20x | 28m x 28m | 150 Items |
| Tudor Rose Chalet | 500  | 25x , 15x , 45x | 28m x 28m | 150 Items |
| Rustic Rose Chalet | 500  | 25x , 15x , 45x | 28m x 28m | 150 Items |
| Stone Spring Chalet (Terrace) | 500  | 50x , 15x , 20x | 28m x 28m | 150 Items |
| Tudor Spring Chalet (Terrace) | 500  | 50x , 15x , 20x | 28m x 28m | 150 Items |
| Rustic Slate Chalet (Terrace) | 500  | 50x , 15x , 20x | 28m x 28m | 150 Items |
| Tudor Slate Chalet (Terrace) | 500  | 50x , 15x , 20x | 28m x 28m | 150 Items |
| Tudor Rose Chalet (Terrace) | 500  | 25x , 15x , 45x | 28m x 28m | 150 Items |
| Rustic Rose Chalet (Terrace) | 500  | 25x , 15x , 45x | 28m x 28m | 150 Items |
| Stone Spring Chalet (Balcony) | 500  | 50x , 15x , 20x | 28m x 28m | 150 Items |
| Tudor Spring Chalet (Balcony) | 500  | 50x , 15x , 20x | 28m x 28m | 150 Items |
| Rustic Slate Chalet (Balcony) | 500  | 50x , 15x , 20x | 28m x 28m | 150 Items |
| Tudor Slate Chalet (Balcony) | 500  | 50x , 15x , 20x | 28m x 28m | 150 Items |
| Tudor Rose Chalet (Balcony) | 500  | 25x , 15x , 45x | 28m x 28m | 150 Items |
| Rustic Rose Chalet (Balcony) | 500  | 25x , 15x , 45x | 28m x 28m | 150 Items |
| Name | Plan Cost | Construction Material | Dimensions | Decor Limit |
| --- | --- | --- | --- | --- |
| Breezy Bungalow | 300  | 5x , 5x , 10x | 24m x 24m | 100 Items |
| Name | Plan Cost | Construction Material | Dimensions | Decor Limit |
| --- | --- | --- | --- | --- |
| Aquafarm | 20  | None | 16m x 16m | 50 Items |